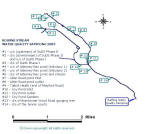 Coy Pond Gardens Water Quality Data 2003
We regularly sample water quality Monkton Crescent in Alderney, where the stream is culverted; it then reappears some 2.5km further downstream at Coy Pond Gardens.
The Coy Pond Gardens sampling site is slightly upstream of the stepped entrance to the gardens opposite Coy Pond and downstream of the small SUDS ponds created in November 2003.
It's clear from the charts below that water discharging from the culvert at Coy Pond Gardens has deteriorated somewhat during its time in the underground sewer system.
The 2003 stream improvements, and newly created ponds, were constructed to treat the water as it exits the culvert.
Sampling for the data presented below took place weekly over a 15 week period 12 May - 10 September 2003.

Coliforms are measured per 100ml of water.
The table below shows a very high presence of coliforms measured at Coy Pond Gardens during 2003:
Results are compared with Bathing Water standards (shown left) for comparison purposes only
European Bathing Water Directive

Coy Pond Gardens

Imperative (minimum) standard

per 100ml of water

2003 average coliforms

per 100ml water

10,000 total coliforms

2,000 faecal coliforms

n/a

1,073,477 total coliforms

7,841 faecal coliforms

964 faecal streptococci
However, the very high averages were affected greatly by the heavy rainfall of 28th August following a 27-day dry period [more].
The differences between the two charts (above and below) indicate how 'first flush' events can drastically effect stream water quality, and why it's important that we hold and treat such water wherever and whenever we can.
Taking 28th August out of the equation:
European Bathing Water Directive

Coy Pond Gardens

Imperative (minimum) standard

per 100ml water

2003 average, excl. 28 Aug

per 100ml water

10,000 total coliforms

2,000 faecal coliforms

n/a

7,297 total coliforms

1,259 faecal coliforms

319 faecal streptococci
Results are compared with Bathing Water standards (left) for comparison purposes only