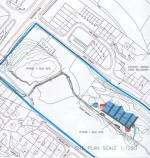 Lagoons & Wetland, Alderney
The lagoons project at Alderney represents the first example of a SUDS (Sustainable Drainage Systems) in the Bourne stream catchment.
Installed by Borough of Poole Leisure Services, and funded by English Nature, they are now the subject of detailed study and monitoring to assess their effect on both water quality and wildlife habitat.
Phase One - Lagoons
March 2000 - a series of five on-line lagoons (ponds) were created in the upper reaches of the identifiable watercourse immediately downstream of Ringwood Road and planted with reeds. Total area approximately one hectare.
Site prepared for lagoons (above left) - and after 6 months (above right)

Phase One provided some initial treatment to the flows from Ringwood Road (primarily highway run-off).

During tree clearance here an old and leaking foul sewer was discovered and is understood to have generated overspill into the watercourse; this has now been rectified.

The lagoons were originally planted with 450m2 Phragmites australis (Common Reed) but was soon eaten by the two ponies that graze the area.

They have now been colonised by Typha latifolia (commonly known as Reed Mace) (right), which can also be found at the ponds upstream of Scott Road and at Bourne Valley Park.

Compare the plan with an aerial photo of the lagoons taken soon after their creation (click to enlarge)
Phase Two - Wetland
March 2001 - a shallow off-line wetland was constructed a short distance upstream of Phase I (see plan). Total area approximately 2500m2.
Phase II now provides the initial treatment for the highway run-off from Ringwood Road, and is intended to deal with first-flush waters containing a high level of pollutants. On leaving the wetland area stream water is diverted into Phase I for further treatment.
| | |
| --- | --- |
| | |
| Wetland site after tree clearance 2001 | Wetland well vegetated in April 2003 |
Since completion of Phase I, students from Bournemouth University have been monitoring and evaluating the success of the lagoons and wetland.
Kerry Fleet, BSc (Hons) Environment Protection, Bournemouth University (2002) The Use of Constructed Wetlands to Improve the Water Quality of the Bourne Stream, Dorset.

Robert Aquilina, MSc Environmental Quality, Bournemouth University (2003) Habitat Quality in Constructed Wetlands as part of a Sustainable Urban Drainage System (SUDS).

Gary Broocks, BSc (Hons) Environmental Protection, Bournemouth University (2004) Constructed Wetlands on the Bourne Stream, Dorset: An Assessment of Water Quality and Highway Run-Off