"The Bourne Valley is an asset to us all - a tranquil oasis, often just yards from busy urban streets"
Roger Yates, local resident
Greenways are shared use routes designed to give better mobility and access to people of all abilities on foot, bike or, where possible, on horseback. They provide safe and attractive routes for health, recreation and local commuter journeys.
Greenways connect people with places and open spaces.
The Bourne Valley Greenway was opened in May 2004.
It runs continuously for 6.5km from Gravel Hill, Broadstone, across Canford Heath, and follows the stream through Bourne Bottom, across Talbot Heath past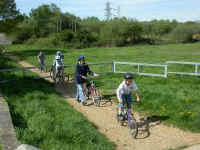 Coy Pond and into Bournemouth Gardens to the town centre and the seafront.
The Greenway serves a large population and offers a quiet, safe and tranquil alternative to the surrounding busy roads.
Local people make use of the route to reach the shops of Bournemouth Town Centre, to commute to school or work and to enjoy all the countryside, nature reserves and gardens of the valley, whilst visitors are drawn to explore further away from Bournemouth Town Centre.