Sand Lizard Lacerta Agilis
Due to vast habitat loss the Sand Lizard now only occurs naturally in Surrey, Dorset and Hampshire where it lives on sandy heathland, and further north in Merseyside where it is confined to coastal sand dune systems.
The species has now been re-introduced to other sites in these counties and also, to restore its range, to sites in North Wales, Devon and Cornwall and West Sussex.
The Sand Lizard lays eggs in late May or early June, these hatch between August and early October. The eggs are left buried in sand exposed to the sun which helps to keep them warm; this is why the species is confined to sandy habitats.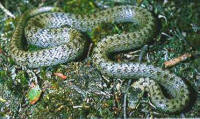 Smooth Snake Coronella austriaca
The Smooth Snake is Britain's rarest reptile and is found on heathlands in Dorset and Hampshire and on one or two heaths in Surrey and West Sussex.
There are old records from heaths in adjacent counties. Many of the sites on which it occurs are also inhabited by the Sand Lizard.
It is non-venomous and feeds mainly on lizards and small mammals. Live young, which look very similar to the adults, are born in September.
It is a secretive animal and when it basks in the sun it does so entwined amongst the stems of heather plants where it is superbly camouflaged.
Both species are protected nationally under Schedule 2 of the Conservation Act 1994; they are also internationally protected under the Council of Europe's Convention on European Wildlife and Natural Habitats (the Bern Convention) of 1979 and under the European Union's Habitats and Species Directive of 1992.
Because these species are so rare it an offence to:
kill, injure or capture them;

disturb them in any way;

damage or destroy their habitat.
It is also an offence to possess, sell or trade Sand Lizards in any way.