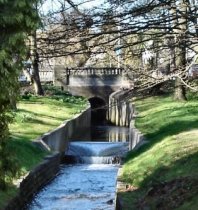 Gauging Weir
The stream's only purpose-built gauging weir is at Branksome Wood Road.
It was constructed by Bournemouth Council's Drainage and Coast Protection Team in 1995/1996 at a cost of £53,750 which included works to the stream banks, the provision of a new timber footbridge and channel realignment works.
The weir is designed for a maximum discharge of 4.4m3/s (cubic metres per second) which gives a head of 0.85m above the crest of the weir.
On only one occasion in the last five years has the flow exceeded the maximum it was designed for. That was in October 2001 - 143mm of rain during the month, 36.7mm of which fell on 7th October.
On average we experience two or three occasions annually where daily rainfall exceeds 30mm; the highest recently recorded was 31st December 2000 (49.1mm).