Fish Deaths at Scott Road Pond
2nd February 2006
One hundred young roach were today introduced to their new home at Scott Road pond, Wallisdown, following the death of more than 200 of the species there last summer.
Following an offer from Bournemouth based Space Industries to fund the replenishment scheme, staff from partner organisation Bournemouth Oceanarium have worked with the Partnership to supply the fish and gain the necessary permissions required.
Jim Reilly, marine biologist at the Oceanarium said, " As the Scott Road pond sits in Bourne Bottom, a Site of Special Scientific Interest (SSSI), we have had to consult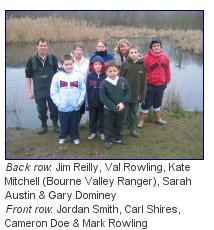 English Nature and carry out health checks on the fish before the Environment Agency would give the project a green light. The EA have strict guidelines about the species, size and quantity of fish that can be introduced."
Last July's fish deaths were linked to a chemical spill at a small industrial estate on Wallisdown Road, which runs parallel to the valley through Bourne Bottom. The pollutant had been washed down the road drains and entered the stream which runs just yards away.
Local young people were particularly upset at the fish deaths, so it's been important for them to be involved in the re-introduction. Others participating included Val Rowling who lives in Scott Road and does a lot of good work to keep the pond and stream clear of litter and overgrowth, and Kate Mitchell, Poole's Bourne Valley Ranger.